Getting to Rosarito
Welcome to Mexico
From San Diego, California, take Interstate Highway 5 or Interstate 805 south. This will take you to the San Ysidro, California border crossing (at Tijuana). There will be various freeway exit signs along the way including one reading "Last U.S. Exit." and the Interstate the freeway takes you right into Mexico.
Automobile insurance details:
Four U.S. carriers provide full coverage in Mexico - Allstate, Farmers, State Farm and AAA to a distance of 75 miles south of the border - typically this means to and including Ensenada. However, Mexico does not recognize this coverage and the visitor must obtain the minimum liability and property damage coverage in order to avoid complications in the event of an accident. You can be detained if you do not have a policy recognized in Mexico at the time of an accident, even if your American policy will cover you.
Baja Bound Insurance Services



Driving to Baja? Proudly serving baja travelers online since 1999. BajaBound.com - The easiest way to buy Mexican insurance! www.bajabound.com, 888.552.2252

Insurance can be obtained for an occasional visit at one of many "Mexican Insurance" agencies located just north of the border at The San Ysidro Blvd freeway off ramp or can be purchased by more frequent visitors on a 30 days a year plan for much less than buying insurance for each visit at the border.
When you get to the border the Mexicans have a red light / green light system set up for who gets their car inspected. If you get a red light and the bell sounds, you are supposed to exit and go into Custom's Inspection area. The Mexican Custom Agents also randomly direct vehicles into Custom's Inspection area. There is nothing to fear at Custom's Inspection unless you have numerous items that you are trying to get across the border without authorization.
Prohibited items:
There are three items that can get you in very serious trouble in Mexico and these are: guns (any type), ammunition, and unlawful drugs. Please make sure you don't leave a stray round rolling around in your trunk from your last hunting or target shooting expedition. If you do drugs it is very strongly recommended you leave your stash at home!
Just past the revision area on the right is a location from which to purchase Mexican Insurance for your vehicle if you have not done so. Remember that most American policies will not cover you in Mexico.
To get to the toll road from the border after entering Mexico through their customs drive in the far right lane. Once you get to the point to where traffic is merging with you from the right side, immediately start looking for a chance to move to the far right lane that just formed to your right. Very quickly after that is the exit to the right to Rosarito by means of the "Scenic Road" AKA toll road to Rosarito / Ensenada. That will take you to the road that runs along the international border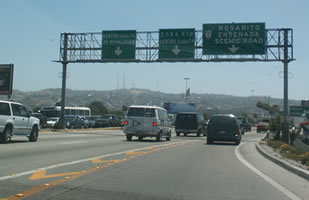 Follow your exit ramp straight ahead as it leads into the road running along the border - the huge border barriers will be on your right. This road goes up a hill sweeps to the left and heads down hill - near the bottom you'll take the right hand exit toward Rosarito / Ensenada.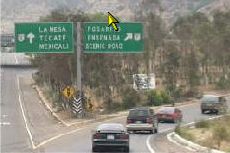 Up another hill and then you'll drop down to Playas de Tijuana intersection. Since we are going to Rosarito Beach we'll follow the road as it curves left. - Do Not Exit. Keep to the left.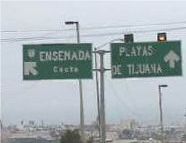 As you continue around the curve, the road will straighten out, and you will come to the first toll booth (This will be your only toll as if you get to the next toll booth you have gone too far). A toll fee of $2.25 US dollars (varies slightly depending on exchange rate) will take you all the way to Rosarito Beach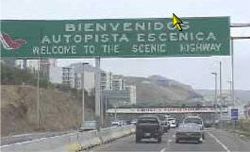 The remaining portion of the Toll Road is a four lane divided roadway all the way to Ensenada. Congratulations, the worst is now behind you! The remaining part of the trip is "a piece of cake." Enjoy the view along the ocean. The 17 mile scenic trip will take about fifteen minutes.
At Rosarito Beach, there are four exits off the toll road. The first exit will take your right into town. You'll drive along Benito Juárez Boulevard (main street) for about two miles to the Downtown area. Avoid city traffic by staying on the toll road and take the fourth exit under an arch that welcomes you to Rosarito. This exit takes you directly to downtown (two short blocks).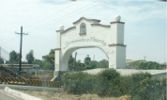 Once you exit and go two blocks to the main road of Benito Juarez (as far as you can go).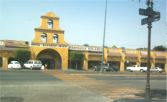 That's it. You are now in Rosarito. Enjoy your stay...